2023 Quest for Quality Award Winner!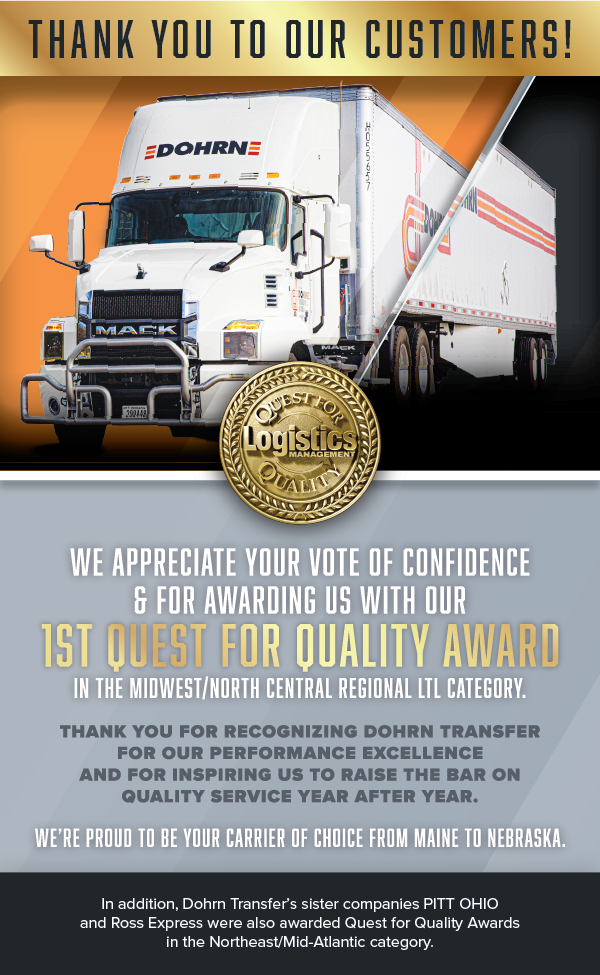 Thank you for helping us stay the Best in the Midwest!
Rock Island, Illinois – Dohrn Transfer Company, a leading less-than-truckload (LTL) carrier, announced today the receipt of a Logistics Management Quest for Quality Award. The Quest for Quality Awards are the gold standard for customer satisfaction and performance excellence for carriers, ports, and logistics providers worldwide.
This is the first time in company history that Dohrn has received a Quest for Quality Award. Dohrn earned a spot in the Midwest/North Central Regional LTL category.
"The Quest for Quality is one of the most sought-after awards in our industry. We are honored to receive the prestigious Quest for Quality award for being the best Midwest carrier. This recognition is a testament to our unwavering commitment to service excellence, our dedicated team, and, most importantly, our loyal customers. We want to thank our customers for recognizing and acknowledging Dohrn's progress as we remain committed to being the Best in the Midwest." –Heather Dohrn Executive Vice President Chief Commercial Officer
"Thank you to our customers for recognizing Dohrn Transfer Company for this award, this means a lot to us. We have 1,300 incredible employees that work hard every day to give our customer's a great experience each time they ship. This award represents their dedication to quality service." –Robert Howard President Chief Operating Officer
Logistics Management's (LM) Annual Quest for Quality Awards are the culmination of a six-month research project conducted by Peerless Research Group (PRG). For more than three decades, LM's Quest for Quality Awards have been regarded in the transportation and logistics industry as the most important measure of customer satisfaction and performance excellence.
Dohrn Transfer's sister companies PITT OHIO and Ross Express were also awarded Quest for Quality Awards in the Northeast/Mid-Atlantic category.
About the Quest for Quality Awards
To determine the "best of the best," LM readers—logistics, transportation and supply chain decision makers—rate carriers, third-party logistics (3PL) service providers and U.S. port operators strictly on the basis of service quality. One of the most notable elements about the Quest for Quality Awards is that it calls these shippers to vote in the genre of services in which they are customers; therefore, they vote for the providers that they believe have best delivered on quality service in specific niches.